Vegans Don't Want F*cking Salad
September 15, 2019 / by admin
Summer is coming to an end, and the winter weight is ready to greet us all at once. As a vegan, I welcome a little weight gain (if it goes to my butt), because it means there's some good vegan food being consumed, and no one is offering me a salad. Don't get me wrong, I am all about a fun salad, but I'd rather have something savory on any given day. Isn't it disappointing when you're in the beginning of your transition and you're all excited, only to realize most places are only offering you ingredients you could have picked from a tree yourself on the way in?
New vegans want all of the colors on their plate, but with flavor, and without all of the mock meat and soy sh*t. I've been vegan for almost 3 years, and I've seen how discouraging those can be if they enjoy dining out, especially when they have no real alternative or knowledge to cook a complete vegan meal for themselves at home. My goal is to make you feel comfortable cooking a complete vegan meal at home, and to know what appliances are good to cook with. If you for some reason choose to leave your house and eat around a bunch of strangers, I'll be your guide to the vegan deliciousness for dining out. Let's start with staying in, though!
This is my favorite eggplant lasagna recipe. It is purely fresh veggies and vegan cheese. Add some garlic bread if you're feeling extra fancy and your carbs don't go to your chin in the morning (because mine does).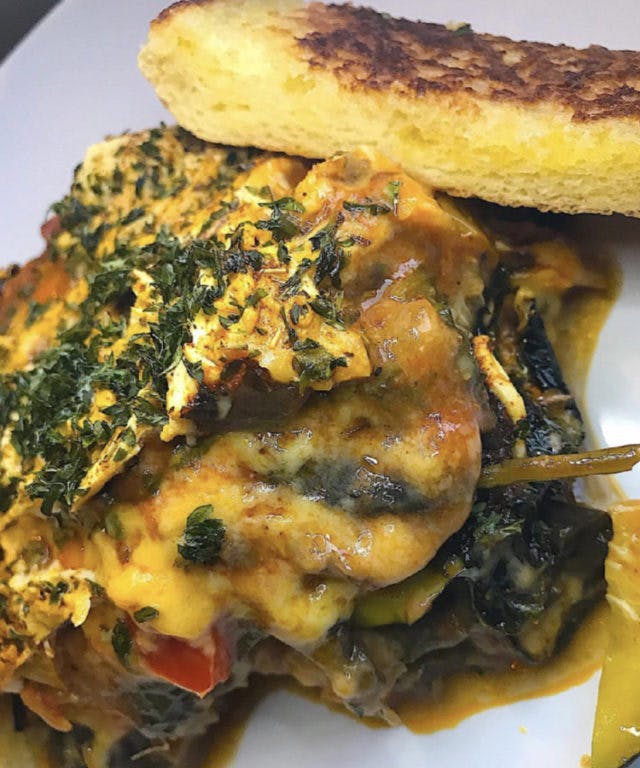 Ingredients for the sauce:
½ c tomato paste
1 ¼ c water
1 tsp paprika
1tbsp garlic powder
2 tsp agave
2 tsp hot sauce (I used Cholula)
½ tsp sea salt
1 ½ tbsp italian seasoning
1 tbsp dried parsley
1 plum tomato roughly chopped 2 ½ c daiya cheddar cheese
Directions: combine all ingredients (except for cheese) into heated medium-sized pot. Bring to allow simmer and stir in 1 cup of cheese. Allow sauce to simmer for 15 minutes or so, stirring until cheese completely blends with sauce.
Ingredients for the veggies:
1 medium sized eggplant medium-thin slices
2 c mushrooms sliced
1 red pepper, chopped
½ red onion, chopped
2 garlic cloves diced
½ yellow pepper, chopped
4 c fresh spinach
¼ sea salt
2 medium zucchini, thinly sliced
½ tbsp grapeseed oil
1tbsp basil
Directions: preheat oven to 400. Add a dash of salt and cooking oil to eggplant and roast in the oven for 20 minutes. Mix garlic, salt, parsley, peppers, mushroom, and onion into a bowl. Sauté in grape seed oil on med-high heat for 3-5min
Layer ingredients in baking dish as follows: eggplant, zucchini, sautéed veggies, sauce, cheese (disburse cheese throughout 3-layers) and spinach. Top with additional cheese, dried parsley;basil. Drizzle oil over cheese & Bake at 400 for 15-18 minutes